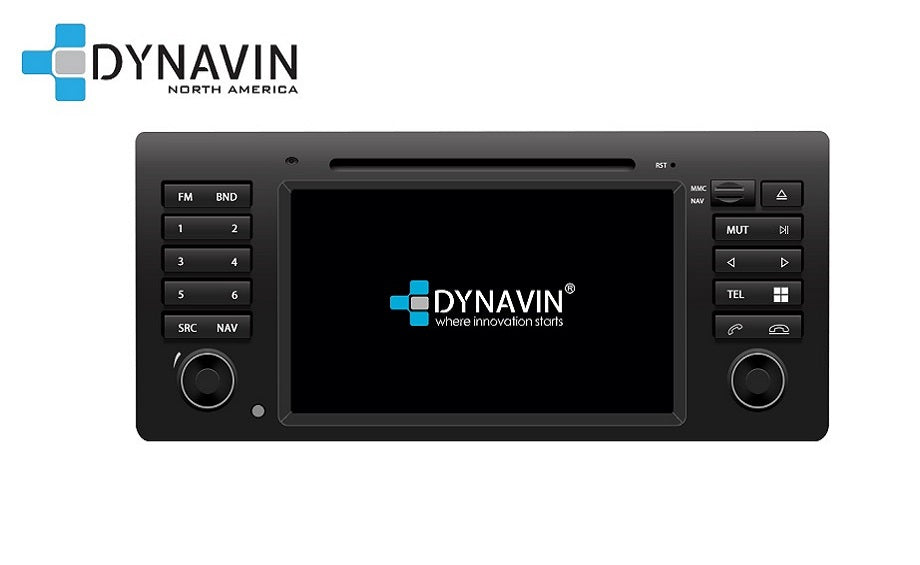 [REFURBISHED] Dynavin N7-E39 PRO Radio Navigation System for BMW 5 Series 1996-2003 w/"Business CD" Standard Audio
---
DSP compatible! Functionality enabled through the Dynavin's audio settings. (No difference in install or additional components required!)
Plug and Play: replaces "BMW Business CD/Professional" single-din radio or double-din OEM navigation unit
DSP amp/Harman Kardon audio system compatible!
Premium 7"/16:9 LCD capacitive touchscreen display (1024 x 600 resolution)
Wired Apple CarPlay and wired Android Auto
Bluetooth (external microphone included) for audio streaming and hands-free voice calling via any smartphone (Android, Apple, etc.)
Reverse/backup and/or front camera ready; compatible with most universal backup cameras (see backup cameras sold separately)
CD+DVD disc player
Multimedia Micro SD card reader on front panel
iBUS solution integration built-in (for functionality of steering wheel controls)
FM RDS TMC tuner with DSP noise masking and 30 preset stations
Integrated Sound DSP processor with EQ, time correction and 4V pre-out
AV input/output, AUX in/out -- AUX-in flush mount plug sold separately
Multimedia player by USB connectivity: includes 3 ft. USB cable to extend to glove box or get the 6ft flush mount USB extension cable
Includes navigation software with 3D landview and premium POI: Includes a licensed copy of iGo Primo Navigation Program with North American maps (A $99 VALUE). Premium POIs, 3D buildings, additional maps and updates are available from www.naviextras.com.      
Includes 90-day warranty through Dynavin North America - Fresno, CA    
*Required for E39s with OEM Navigation only: Extension "Fakra" cable for installation. Simply select "E39 w/ OEM navigation (includes extension cable)" above under "Current Audio System" to purchase the Dynavin unit with the necessary cable. Click here for details.
Make installation even easier with the Dash Trim Removal Kit!
Features:
Apple CarPlay and Android Auto Compatible!
This is what separates the N7 Pro from the previous N7. The Pro is Apple CarPlay and Android Auto compatible right out of the box! Simply plug in your Apple or Android Phone via USB (with the appropriate app downloaded on your phone) and you're ready to drive safely! For a list of compatible Apple CarPlay apps, visit: https://www.apple.com/ios/carplay/. For Android Auto apps, visit: https://www.android.com/auto/.
Smartphone Ready - Apple & Android
The Dynavin N7 can connect directly to your iPod, iPhone, iPad for music via USB and it will display artist, album, song, and album art on the Dynavin's touchscreen. A wired USB connection provides direct digital signal transfer from your device for clean, clear sound all while keeping your device charged. Simple, intuitive search tools help you find your content faster. Android smartphones can connect via Bluetooth and display artist, album, and song but not album art. 
SiriusXM Satellite Radio Ready
Add the SiriusXM Connect Vehicle tuner (sold separately) to listen to your SiriusXM subscription anytime, anywhere.
Capacitive Anti-glare Touchscreen
View your Media and Navigation on a clear, high resolution display. A capacitive anti-glare touchscreen gives you precise fingertip control and superior visibility in all lighting conditions.
Dual Radio Tuner
The Dynavin uses an FM phase diversity circuit, processing the signals of the dual antennas built into the vehicle. DSP algorithms create a noise and distortion free FM signal by merging both radio signals into a single new audio stream. Allowing for optimal radio reception even under the most challenging conditions.
Bluetooth
Bluetooth Plus gives you hands-free phone operation plus many other convenient functions like easy alphabetical phonebook search, hold and switch incoming calls, battery and mobile reception level indicators, plus advanced audio streaming while displaying song, artist and tag information. Compatible with any smartphone.
iGo Primo Navigation
- included (North America, Europe, or Australia)
Dynavin N7 features a built-in navigation system with simple destination input, turn-by-turn voice prompts, and selectable route guidance - everything you need to reach your destination quickly and efficiently. Pre-loaded with rich points of interest, its database includes national parks, restaurants, petrol stations, and much more. Furthermore, iGO Primo offers 30 days FREE updating on the maps after the first use. Visit www.naviextras.com to update.
4V Preout
High powered 4 Volt Preamp Outputs ensures ultra clean signal transmission from the Dynavin to aftermarket amplifiers. When properly gain matched these high voltage RCAs virtually eliminate noise and distortion, even at high volume levels.
DSP Sound Integration
Dynavin N7 head units use high-resolution Burr Brown 24-Bit Digital to Analogue conversion allowing for clean, accurate, stunning sound reproduction. 
 IBUS integration
1. Steering wheel button remote control integration
2. Parking distance sensor (PDC) integration for vehicles so equipped
3. Support OEM DSP sound system 


Specifications:
Tuner
Memory Presets: Preset Stations (FM:15 / MW: 15)
Memory: Auto Memory
RDS
RDS Functions: AF, TA, TP, PTY, NEWS, RADIO TEXT
Bluetooth
Compatible with Android smartphones and Apple iPhone, iPod, and iPad
Built-In Bluetooth Module
Bluetooth audio streaming with tag info display
Hands-Free Calling
Phone Book Transfer
Phone Book Search: Alphabet Search
Favorite contacts
Wired Microphone Included
Redial Function
Call History Display
Adjusting the volume when receiving a call 
Disc Player
DVD/CD Player
Disc Playback Type: DVD Video, DVD Audio (2ch mix down), CD, CD-R, CD-RW, DVDR/RW, DVD-VR
Compressed Media Playback: MPEG/ AVI /RM/ FLV/ ASF/ WMV/ MP4/ MKV/ OGM/ DivX/ MP3/ WMA/ AAC Playback
24bit-DAC
Sensor: Music Sensor Scan, Repeat
Playback Control: Play/Pause, Fast Forward/Backward
DVD Direct Menu Control
M.I.X. Mode: One (Folder) / All (Random Play) / Random (CD Only)
USB / SD Media Connection
USB Connection (USB Cable Included)
Music Playback: MP3/AAC/WMA Playback
USB Class: Mass Storage, Play from device
Available Selections: Playlist, Artist, Album, Song, Podcast, Genre, Composer, Audiobook
Alphabet Search Function
Information Display: Artist, Song Title, Album Title 
Cover Art Displayed on Apple Devices only
Sound Tuning
Subwoofer Level Adjustment
Dyna-Bass level adjustment
Bass Level Adjustment
Bass Center Frequency Adjustment
Bass Bandwidth Adjustment
Treble Level Adjustment
Treble Center Frequency Adjustment
Source Tone Memory
Time Correction Adjustment
Equalizer: 9-Band Parametric Equalizer Feature
General
Power Output: 4 x 50 W High Power Amplifier
High Grade Audiophile Design
SD Card: Video Playback
PreOut: 3 sets PreOuts (4V) and 1 AV Output
AUX-In: 1 AV Input
Steering Wheel Control interface included
Auto Dimmer
Power Antenna Output
Amplifier Remote Turn-On Output
Audio Interrupt
Camera Guide Line Adjustment
Dual Zone Control
---
Share this Product
---
More from this collection